Environmentally-conscious building design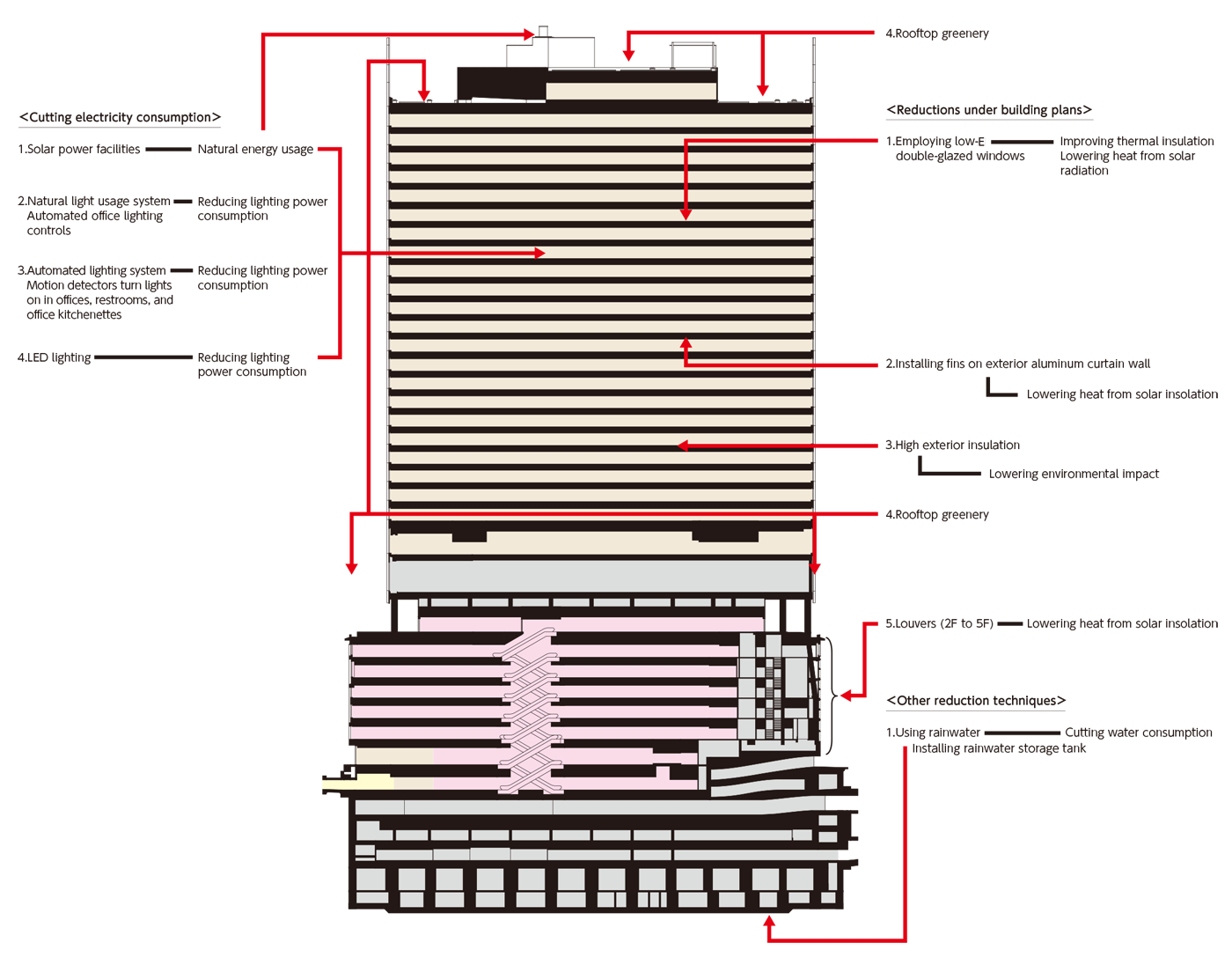 Specifications to help reduce air conditioning load
Equipped with Low-E glass in order to reduce heating load caused by sunlight entering through windows.
Equipped with fins on the aluminum curtain walls of the exterior walls to reduce the sunlight heat load.
Partial rooftop greenery to help reduce the heat load of the interior air conditioning.
Other specifications
The external design emphasizes harmony with the surrounding environment.
There are no harmful chemical substances contained in the materials used.
Specifications to reduce power usage
We have adopted an automatic variable light control system which uses sunlight sensors to control the light levels in offices automatically, thereby reducing power consumption.
We have adopted LED lighting fixtures which use less electricity for our exclusive and shared use lighting.
Reduction of shared-use energy
Lights in the restrooms and teakettle rooms are turned off by motion sensors when not in use.
During overtime hours the shared-use lighting is automatically set to 1/3 to 1/10, reducing power consumption.
The heated toilet seats do not remain heated during overtime hours to reduce power consumption.
The air conditioning in the halls, elevator halls, and inside the elevators ceases its conditioning operations and switches to ventilating operation in order to reduce power consumption and heat consumption during overtime hours.
Water usage is reduced by installing rain water storage tanks and using rain water for urinal washing.
10kW solar panels are installed on the roof to provide electricity.

Environmental matters for tenants to keep in mind
By deciding on a tenant construction plan appropriate for building construction process, you can reduce the disassembly and removal work of the portion constructed during building construction, thereby reducing CO2 emissions and tenant construction costs.
Utilizing recycled products for tenant construction is good for the environment and reduces CO2 emissions in the large cycle.
Selecting Eco-friendly equipment during tenant construction also contributes to the environment.
When installing interior lighting during tenant construction, choosing LED lighting can reduce power consumption.
Avoiding excessive designs of reinforcement equipment during tenant construction and designing an appropriate air conditioning capacity with an understanding of the required heat load can also contribute to energy savings after starting operations.
The room temperature can be set to 28℃ or lower during the summer, and 17℃ or higher during the winter.
After moving in, you can reduce the amount of waste processed by being thorough in efforts to separate garbage.

CO2 annual emission trends
COMING SOON...